May 3: Wildfires and Smoke
BACKGROUND
Smoke can come from many sources such as wildfires (nearby and far away), prescribed fires, and burning wood in fireplaces or stoves inside the home. The primary pollutant of concern in smoke is particle pollution, often referred to as particulate matter, or PM. The health effects from exposure to the particles in smoke can range from relatively minor (eye and respiratory tract irritation) to serious (exacerbation of asthma and heart failure, and premature death).
In many areas of the United States, the increase in smoke exposure from wildfire incidents during summer months poses a great health risk to many people. While most healthy adults and children will recover quickly from wildfire smoke exposure, certain populations may be at greater risk of experiencing health effects, including people with respiratory or cardiovascular diseases, children, older adults, pregnant women, and outdoor workers. Being prepared for the fire season is very important!
WHAT'S HAPPENING?
EPA and partners such as CDC, NOAA, USFS, and state and local air agencies continue to work together to develop and improve upon resources to better inform the public on the health effects of smoke and how you can protect yourself during wildfire events.
Wildfires and Indoor Air Quality
Wildfire smoke can make the outdoor air unhealthy to breathe. Smoke from outdoors can also enter your home and make it unhealthy to breathe indoor air, too. EPA has developed materials on how to reduce or remove polluted air inside of homes and buildings.
https://www.epa.gov/indoor-air-quality-iaq/wildfires-and-indoor-air-quality-iaq
Setting up a Clean Room: Here's how to set up a clean room at home during a wildfire to reduce exposure to unhealthy wildfire smoke while indoors and not in immediate danger from the wildfire.

Choose a room. Pick a room big enough for everyone in your household to be comfortable. A bedroom with an attached bathroom is a good choice.
Prevent smoke from entering the room. Close windows and doors, but don't do anything that makes it hard to get out.
Stay cool. Run fans, window air conditioners, or central air conditioning. If your air conditioner has a fresh air option (meaning it pulls in air from the outside), turn it off or close the intake and run it in recirculation mode.
Filter the air in the room when there is a smoke event. You will need to buy or make an air-cleaning device before a smoke event. A short video with instructions on how to make one are in the side bar: https://www.youtube.com/watch?app=desktop&v=4qr1Aj6Di7w
Spend as much time as you can in the clean room to get the most benefit from it.
Fire and Smoke Map
The Fire and Smoke Map displays information from ground-level air quality monitors measuring fine particles (PM2.5) from smoke and other sources, as well as information on fires and smoke plume locations. Browse current conditions in your hometown or location of interest.
Smoke-Ready Toolbox for Wildfires
EPA, the USFS and other federal, state and community agencies and organizations are working together to identify ways the public can prepare to reduce their health risk before a wildfire. The resources in the Smoke-Ready Toolbox to help educate people about the risks of smoke exposure and actions they can take to protect their health.
https://www.epa.gov/smoke-ready-toolbox-wildfires
Wildland Fire Research to Protect Health and the Environment
The west and other parts of the U.S. have experienced significant forest fires in recent years. EPA is using its air quality expertise to learn more about the health impacts of smoke emissions and to develop tools to prevent and reduce the impact of smoke from wildfires and controlled or prescribed burns.
https://www.epa.gov/air-research/wildland-fire-research-protect-health-and-environment
OTHER RESOURCES
Tracking Fires and Smoke and Fire Outlooks
NOAA Smoke Forecast Tool

This tool uses the National Air Quality Forecast Capability (NAQFC) to develop and implement operational air quality forecast guidance for the United States. Current operational predictions include levels of ozone, smoke, dust and fine particulate matter (PM2.5) in the outdoor air.

National Interagency Fire Center (NIFC)

The National Significant Wildland Fire Potential Outlooks provide information to fire management decision makers. These assessments are designed to inform decision makers for proactive wildland fire management, thus better protecting lives and property, reducing firefighting costs, and improving firefighting efficiency.

https://www.predictiveservices.nifc.gov/outlooks/outlooks.htm
Resources for Health Professionals
Wildfire Smoke Fact Sheets

Fact sheets on how to protect you, your family, and your animals from smoke and ash.

Wildfire Smoke: A Guide for Public Health Officials
Wildfire Smoke and Your Patients' Health

Online training course to help doctors, nurses and health educators learn about the health effects associated with wildfire smoke, populations and life stages at greater risk, and steps patients should take before and during a wildfire to reduce smoke exposure.
COVID-19, Wildfires, and Air Quality
LEARN HOW TO MAKE A BOX FAN FILTER!
This simple fan-filter combination can reduce the amount of the tiny, harmful particles in the air.
Watch this video on how to make your own clean air fan by the State of Washington Department of Ecology!
https://www.youtube.com/watch?app=desktop&v=4qr1Aj6Di7w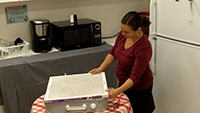 ---