May 4: Asthma & Your Health
BACKGROUND
Asthma is a serious, sometimes life-threatening chronic respiratory disease in which the air passages in a person's lungs easily become swollen or inflamed. Asthma affects the quality of life for more than 24 million Americans, including an estimated 5.5 million children, and often begins during childhood. While all the causes are not known, genetic, environmental, and occupational factors can all contribute to the development of asthma. Although there is no cure yet, asthma can be controlled through medical treatment and management of environmental triggers.
Air pollution, especially ozone and particle pollution, can trigger asthma and worsen attacks. Outdoor air pollution can also increase sensitivity to other indoor asthma triggers, like pets, mold, and dust mites. Regularly monitoring air quality conditions and tracking the levels of these pollutants in your area using the Air Quality Index (AQI) is one way to understand your air environment and minimize potential risks.
WHAT'S HAPPENING?
EPA's Asthma Resources
EPA is taking a coordinated approach on asthma to promote better scientific understanding of environmental asthma triggers and ways to manage asthma in community settings through research, education and outreach.
Learn more on the asthma website here: https://www.epa.gov/asthma. Also check out some additional resources below.
Common Indoor Asthma Triggers

Learn more about the most common indoor asthma triggers here and actions you can take to reduce your exposure to them!
Asthma Resources and Publications
Asthma Community Network

Asthma Community Network is designed for community-based asthma programs and sponsoring organizations (e.g., health care providers, government health and environmental agencies, nonprofits, coalitions, schools, etc.) to network and achieve remarkable health and quality of life improvements for people with asthma. Join the network today to talk to other registered programs across the nation and share best practices!
Air Quality Index (AQI) and Interactive Map

The AQI is EPA's tool for communicating daily air quality. It uses color-coded categories and provides statements for each category that tell you about air quality in an area, which groups of people may be affected, and steps you can take to reduce your exposure to air pollution. It's also used as the basis for air quality forecasts and current air quality reporting.
The interactive map of air quality allows users to see location-specific information on current air quality and air quality forecasts for both ozone and fine particle pollution (PM2.5), two primary Asthma triggers.
AirNow App
EPA's AIRNow application provides an increasingly mobile public with real-time air quality information to use while planning daily activities.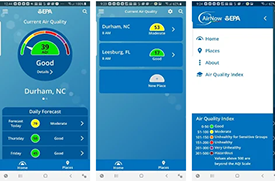 Air quality maps from the AIRNow website provide visual depictions of current
and forecast air quality nationwide, and a page on air quality-related health
effects explains what actions people can take to protect their health at different AQI levels, such as "code orange."
Download the AirNow App for Android or iOS!
https://www.airnow.gov/airnow-mobile-app
OTHER RESOURCES
Air Quality Flag Program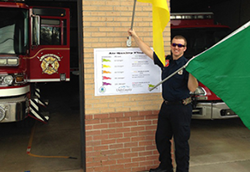 The Air Quality Flag Program promotes using brightly colored flags to help a community become more aware of daily air quality conditions. The flag colors correspond to the colors used in the AQI and can be flown outside schools and community centers.
https://www.airnow.gov/air-quality-flag-program
Air Quality Activity Guides
Guides on activities to do during different levels of ozone and particle pollution.
https://www.airnow.gov/activity-guides-publications
Burn Wise
Wood smoke can also be a trigger for asthma. Learn more about how to burn the right wood, the right way, in the right appliance.
Federal Agencies and Organizations Addressing Environmental Asthma
Learn about efforts from other federal agencies, national nonprofit organizations, and EPA regional offices working to advance asthma care through outreach and education on environmental asthma triggers.
https://www.epa.gov/asthma/federal-agencies-and-organizations-addressing-environmental-asthma
WHY IS COCO ORANGE?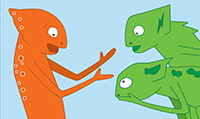 Coco has a problem. He's a chameleon, but he can't change colors, and his asthma is acting up. Read how Coco and his friends at Lizard Lick Elementary solve this mystery as they learn about air quality and how to stay healthy when the air quality is bad https://www.airnow.gov/publications/why-is-coco-orange/why-is-coco-orange-picture-book/
This book is also available in
Spanish here
---