May 6: Air Quality Around the World
Air Quality Awareness Week partners collaborate with countries around the world to better understand air quality. The U.S. Department of State, NASA, and EPA work together to collect and analyze data from U.S. embassies, build capacity with partner counties, and work towards better air quality for everyone. Learn more about different projects going on around the world to help us Be Air Aware and Prepared globally!
Air Quality Forecasting at U.S. Embassy Locations
Embassy Monitor Program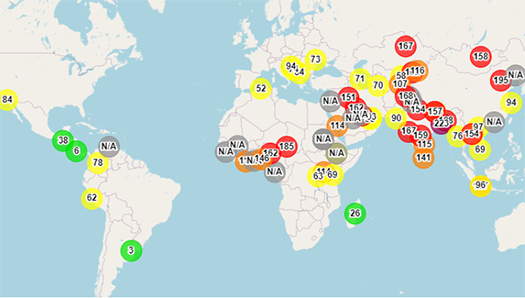 Over 80 percent of U.S. embassies and consulates are in cities where PM2.5 (particulate matter 2.5 microns or smaller in diameter) exceeds the U.S. Environmental Protection Agency (EPA) annual air quality standard. Yet in many of these locations, real-time, reliable air quality data are unavailable.
To help address this problem, U.S. Embassy Beijing installed a reference-grade air quality monitor in 2008. Since then, more than 60 other U.S. embassies and consulates have followed suit. Having access to accurate, real-time data is a critical step to enable people to take action to reduce their exposure to air pollution and improve the health, safety, and well-being. The U.S. Department of State's air quality monitoring program utilizes the same high-quality equipment, data collection, and reporting criteria used in the United States which is based on decades of EPA technical and policy experience and expertise. This rigorous monitoring and reporting also serves as an objective model for foreign audiences, sometimes spurring local action to improve air quality.
View air quality around the world on the AirNow Department of State map.
ZephAir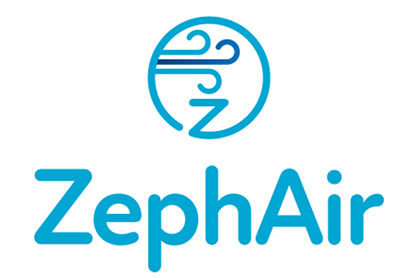 ZephAir gives members of the public – including the U.S. Department of State's 90,000 employees, 50,000 family members, and millions of U.S. citizens living and travelling abroad – access to reliable, actionable, and relevant information that can assist in protecting their health. The app includes customizable features such as push notifications and preferred locations, allowing for quick and convenient updates on air quality.
ZephAir is available for download on the Google Play and Apple App stores.
Satellite, Air Pollution, and Health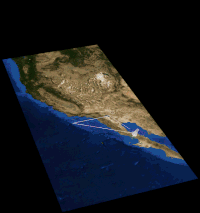 While the health risks of particulate matter (PM) air pollution have been well established by epidemiologists, data remain scarce on the relative health impacts of particles with different sizes, shapes, and compositions. NASA's Multi-Angle Imager for Aerosols (MAIA) investigation aims to explore the effects of exposure to different types of PM on human health, using satellite instruments, surface monitors, atmospheric modeling and public health databases.
Find out more about the MAIA project:
NASA's Health and Air Quality Applied Science Team (HAQAST)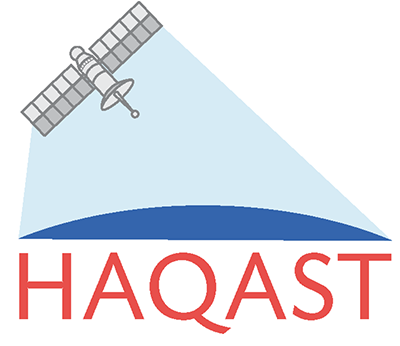 The Department of State Embassy and Consulate Monitoring Program (DOSAir) has installed air quality monitors at more than 60 posts around the world since its inception in 2008. These monitors provide high-quality measurements, but only at the actual installation site. To extend the value of this monitoring data, create a larger spatial dataset, and extend the historical data record, NASA and the Department of State teamed up through NASA's Health and Air Quality Applied Science Team (HAQAST).
A long-term PM2.5 data record was developed for 60+ US embassies and consulates. Using the Modern-Era Retrospective analysis for Research and Applications, Version 2 (MERRA2) to gather meteorological parameters and aerosol components at US diplomatic locations, the project integrated them with surface measurements. The integrated datasets were then used to develop a machine learning algorithm (MLA) that produces ground measurements of PM2.5. Independent algorithms were developed for each location and then used to create 21 years (2000-2020) of data records at hourly, daily, and monthly intervals. These datasets extend the data record well past the 2008 DOSAir beginning, providing a unique opportunity to understand diurnal and seasonal patterns as well as long-term changes in PM2.5 levels and their impact on the health of diplomatic staff and families over twenty years.
Learn more about HAQAST and its projects here.
International Air Quality Management
Reducing Air Pollution Through Regional Cooperation
The Convention on Long-range Trans-Boundary Air Pollution (LRTAP) is the world's only hemispheric air quality agreement. Since it was adopted in 1979, participating countries have successfully lowered emissions of several important pollutants. Using LRTAP as a model to expand regional cooperation on air quality may be the best way to reduce air pollution around the world. At the recent United Nations Environment Assembly 5.2, the Department of State hosted a virtual side event to explore the potential for regional cooperation in improving air quality. See the recorded event here.
Learn more about LRTAP here.
North of the Border: Metro Vancouver
The Air Aware project, carried out by the Metro Vancouver Regional District in British Columbia, Canada, studied the strengths and limitations of small, low-cost air sensors, how they might play a role in Metro Vancouver's air monitoring network, why the public are using them, and how Metro Vancouver can support sensor users. Metro Vancouver sees potential in these sensors to supplement current air monitoring capabilities and continues to support small sensor initiatives.
One outcome of the project was the creation of a website to support anyone interested in using a small air sensor in the Metro Vancouver region. The website includes information on:
common air contaminants and their local and regional sources;
differences between small air sensors and reference monitors;
how to choose and use a small air sensor;
how to interpret small air sensor data and compare it to air quality objectives or Metro Vancouver's air quality data on Airmap.ca;
examples of how other individuals or organizations are using small sensors; and
the Air Aware project, including the technical report (to be published in 2022).

Learn more about Metro Vancouver's Air Aware project here.
South of the Border: Transboundary Air Quality
The U.S.-Mexico border region is home to diverse communities that share history, economic linkages, and the air they breathe. In recognition of these ties, U.S. EPA collaborates with government and community partners in Mexico and the U.S. to improve air quality and public health outcomes on both sides of the border. Since the signing of the 1983 La Paz Agreement on cooperation for the protection of the environment and public health in the border area, the U.S. EPA and Mexico's Secretariat for Environment and Natural Resources (SEMARNAT) have implemented a series of bilateral programs to support this cooperation, including the Border 2025 Program.
With the backing of this bilateral framework, community stakeholders take the lead on developing and implementing projects that align with local air quality priorities and often intersect with related issues such as climate change and environmental justice. Some examples of current activities are below:
- In partnership with U.S. EPA, the California Air Resources Board and the Imperial County Air Pollution Control District are developing an air quality website and mobile application that provides public access to real-time local air quality data, air alerts, air quality forecasting, and health impact information.
- Recently, the Joint Advisory Committee (JAC) for Improvement of Air Quality in the El Paso, TX / Juarez, Chihuahua / Doña Ana County, NM air basin, established a first-of-its kind binational fund that will support air quality projects near the U.S.-Mexico border. https://www.epa.gov/usmexicoborder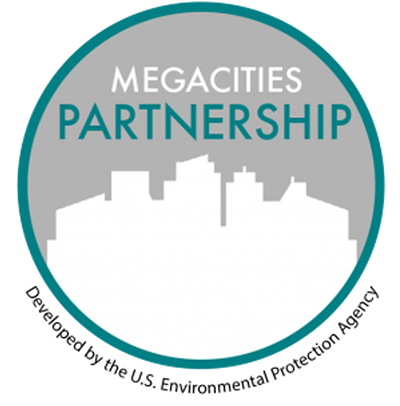 EPA's Megacities Partnership provides national and local policymakers with a framework to develop and implement comprehensive action plans that address air quality and improve public health in cities. The Megacities Partnership is a collaboration with local governments to achieve relevant, locally motivated, and evidence-based air quality management goals, including an Air Quality Management Plan (AQMP), development of policies and future air quality scenarios, analysis of baseline health burden, and others.
The Megacities Partnership does not provide financing for equipment or capital, but rather focuses on capacity building and coordination between local agencies to enhance air quality management. Overall, the partnership provides local and national policy makers with a framework by which to develop and implement a comprehensive action plan to address air quality and improve public health in urban centers.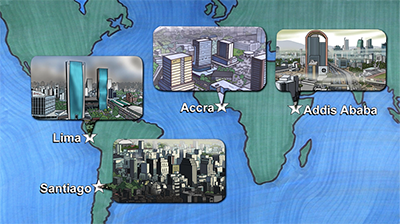 EPA recently developed a Megacities Website which includes a series of freely available templates in English, Spanish and Russian. The templates have been developed to help provide structure and guidance for local governments and can be modified to reflect the specific circumstances on the ground in each location to which they are applied. In addition, four videos were produced that provide an overview of the Partnership and the air quality management model that motivates this program. Additional resources will be added to the website as they become available, including translation of the templates into French, Megacities presentations, and a Climate and Air Quality Management Template.
The pilot cities of Accra, Ghana, Santiago, Chile, Addis Ababa, Ethiopia and Lima, Peru were selected for the implementation of the Megacities Partnerships platform based on consultation with international, regional, and country partners and established selection criteria.
Learn more about the Megacities Partnership here.
---