Older Adults and Air Quality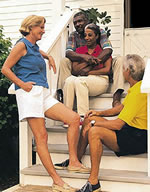 As people age, their bodies are less able to compensate for the effects of environmental hazards. Air pollution can aggravate heart disease and stroke, lung diseases such as chronic obstructive pulmonary disease and asthma, and diabetes. This leads to increased medication use, more visits to health care providers, admissions to emergency rooms and hospitals, and even death.
Ozone and Particulate Matter (PM) (especially smaller, fine particle pollution called PM 2.5) have the greatest potential to affect the health of older adults. Fine particle pollution has been linked to premature death, cardiac arrhythmias and heart attacks, asthma attacks, and the development of chronic bronchitis. Ozone, even at low levels, can exacerbate respiratory diseases.
The EPA has developed fact sheets that are intended to inform older adults and their caregivers about environmental health risks and take steps to reduce those risks.
Fact Sheets
Poster 
More Information
---