Guia de la calidad del aire sobre la contaminacion por particulas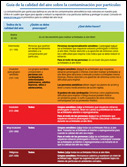 La contaminación por partículas dañinas es uno de los contaminantes atmosféricos más comunes en nuestro país. Utilice el cuadro que sigue para ayudar a reducir su exposición a las partículas dañinas y proteger la salud. Consulte en www.airnow.gov el pronóstico para la calidad del aire local.
You may need a PDF reader to view files on this page. See EPA's About PDF page to learn more.