Infographic: Reduce Health Risks In Areas With Wildfire Smoke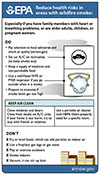 Reduce health risks in areas with wildfire smoke. Especially if you have family members with heart or breathing problems, or are older adults, children, or pregnant women.
June 2018
How To Order
Click the USPS "Request Delivery" button/icon on the bottom right of the Document Display screen
Fill in the form, making sure to note how many you would like to order in the "Special Instructions" box
Click the "Submit Order" button.
You may need a PDF reader to view files on this page. See EPA's About PDF page to learn more.