Infographic: Reduce Health Risks In Areas With Wildfire Smoke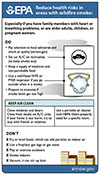 Reduce health risks in areas with wildfire smoke. Especially if you have family members with heart or breathing problems, or are older adults, children, or pregnant women.
June 2018
You may need a PDF reader to view files on this page. See EPA's About PDF page to learn more.